The Gutter Men provide professional installation of 5 and 6 inch seamless gutters.
A Rain Gutter, also known as an eves trough, is defined as "A narrow channel which collects rainwater from the roof of a building and diverts it away from the structure, typically into a drain." The Gutter Men create seamless gutters from rolled aluminum coil, cut to a custom length to exactly fit your home or commercial building. We use the thickest aluminum available for our seamless gutters, and hidden hangers that exceed industry standards. The Gutter Men also offer Half Round Gutters, Copper Gutters, and Gutter Cleaning & Repair. If you have questions about a type of gutter that you do not see here, please do not hesitate to contact us.
Copper Gutter Specialists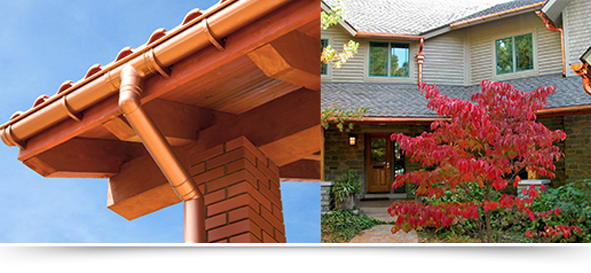 Copper gutters are rain gutters which have been constructed from copper, a metal which has a very distinctive appearance when it is new. Over time, untreated copper gutters will acquire a patina, slowly turning gray to greenish. The use of copper gutters is ancient, with evidence of copper roofing and gutters dating back thousands of years, and copper continues to be a very popular material for gutters. The main disadvantage of copper is that it tends to be higher in price than other gutter materials, but it also increases the value of a structure.
There are several reasons to use copper gutters on a home, beyond the aesthetic look it adds. Copper is very corrosion-resistant, so it will endure even in salty conditions and areas with a great deal of acid rain. It is also sturdy, and it meshes well with a wide variety of roofing materials, including slate, cedar shakes, and composite roofing. Cooper gutters also do not need to be painted, although people who want to reduce the development of a patina may need to periodically strip and re-seal their copper with products designed for this purpose.
Installing copper gutters can be tricky, because the lengths of copper will need to be soldered together for a snug fit. Some people prefer to leave installation to professionals who are experienced at gutter installation, because mistakes with copper can get very expensive. Copper gutters can also be paired with copper flashing for a more uniform look, and ornamental devices can also be added to the gutters at the time of installation, for people who like a little whimsy with their gutters.
Gutter Accessories:
The Gutter Men offer a couple different accessories for your home and gutters. Our accessories include rain chains, leader heads, & rain barrels.

Rain Chains
Instead of traditional downspouts, rain chains add a very different and unique look to your home and gutters. Rain chains also provide a peaceful sound that is a perfect addition to a porch or patio.

Leader Heads
Leader heads come in both copper and aluminum. Leader heads add an elegant and new look to your home and gutters.

Rain Barrel
A rain barrel collects and stores rainwater from rooftops to use later for watering plants and gardens. Water collected in a rain barrel would normally pour off your roof directly or flow through roof gutter downspouts and become stormwater runoff.