The Gutter Men are one of very few companies in Michigan that offer Under Deck Drainage Systems. Under Deck Ceilings can provide your home with a greater living space. You may have never thought of using the space below your deck ceiling as a living space, but the truth is you can! Having The Gutter Men install an Under Deck drainage system by Under Deck Oasis can give your home more space by creating a roof under your deck, keeping you dry and in the shade for the lifetime of your home. The Under Deck drainage system acts like a giant pan of collecting and dispersing water, while protecting you and your furniture, spa, and grill from the elements.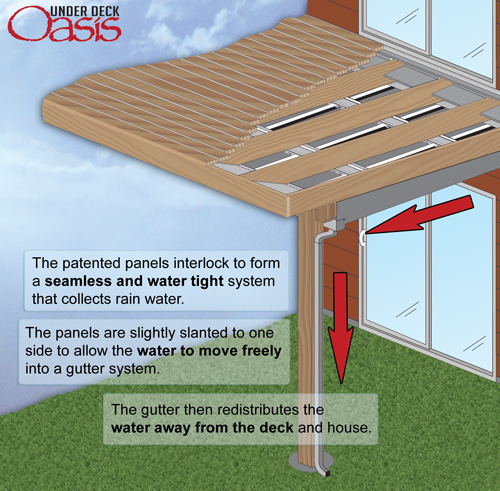 So, what is an Under Deck Drainage System?
It is similar to the construction that we all see at a gas station above the Gas Pumps. There is no sloped roof, but an engineered metal panel collection system attached to a frame work. A similar frame work already exists on raised decks. The system simply collects the water and slopes it into to a gutter. The gutter slopes to a downspout, the downspout drains the rain into a controlled location. Basically it's a waterproof ceiling attached to the bottom of a deck.
Under Deck Ceilings can also Increase the value of your home. The money spent on improving your home's functionality will be a well made investment for your family and your future. With Under Deck Oasis Lifetime Warranty you can be sure that you can count on our dedication to quality and providing a great experience for our customers.
Our Under Deck Panels are of the highest quality Aluminum Alloy. This Aluminum will not crack, split, rust or sag, and was selected to endure the elements for a lifetime as a hassle free solution to keeping the space under your deck dry! Under Deck Oasis Panels come in 12 colors and two finishes. Woodgrain finishes give a realistic apperence of wood for that natural look and feel, while the painted panels give a clean and custom look at a lower price.